2019 marks the 40th anniversary of the Museum of Old Newbury's treasured annual garden tour. In celebration of this exciting milestone, visitors will have the opportunity to re-visit crowd favorites from years past, and tour never-before-featured properties. Start your tour at the museum's historic Cushing Garden, then set out with a detailed guidebook and map to discover the beautiful diversity of Newburyport area gardens.
The garden tour's featured properties range from manicured city pocket gardens to rambling country landscapes, with the common theme of celebrating nature's beauty and bounty. Gardens were carefully selected for their variety of plant materials, stunning locations, and creative features. Enjoy breathtaking views of the Merrimack River, step into an artist's "plein air" studio, and perhaps even catch a glimpse of a rare feathered friend at a backyard bird sanctuary.
Throughout the weekend, a number of activities will also take place at the museum, located at 98 High Street in Newburyport. Visitors can outfit their gardens for the summer at the annual plant sale, and peruse pop-up boutiques by local vendors. The Federal period Cushing House will also be open free of charge. All proceeds from the event benefit the museum's education programs and preservation projects.
Featured Gardens Sneak Peek!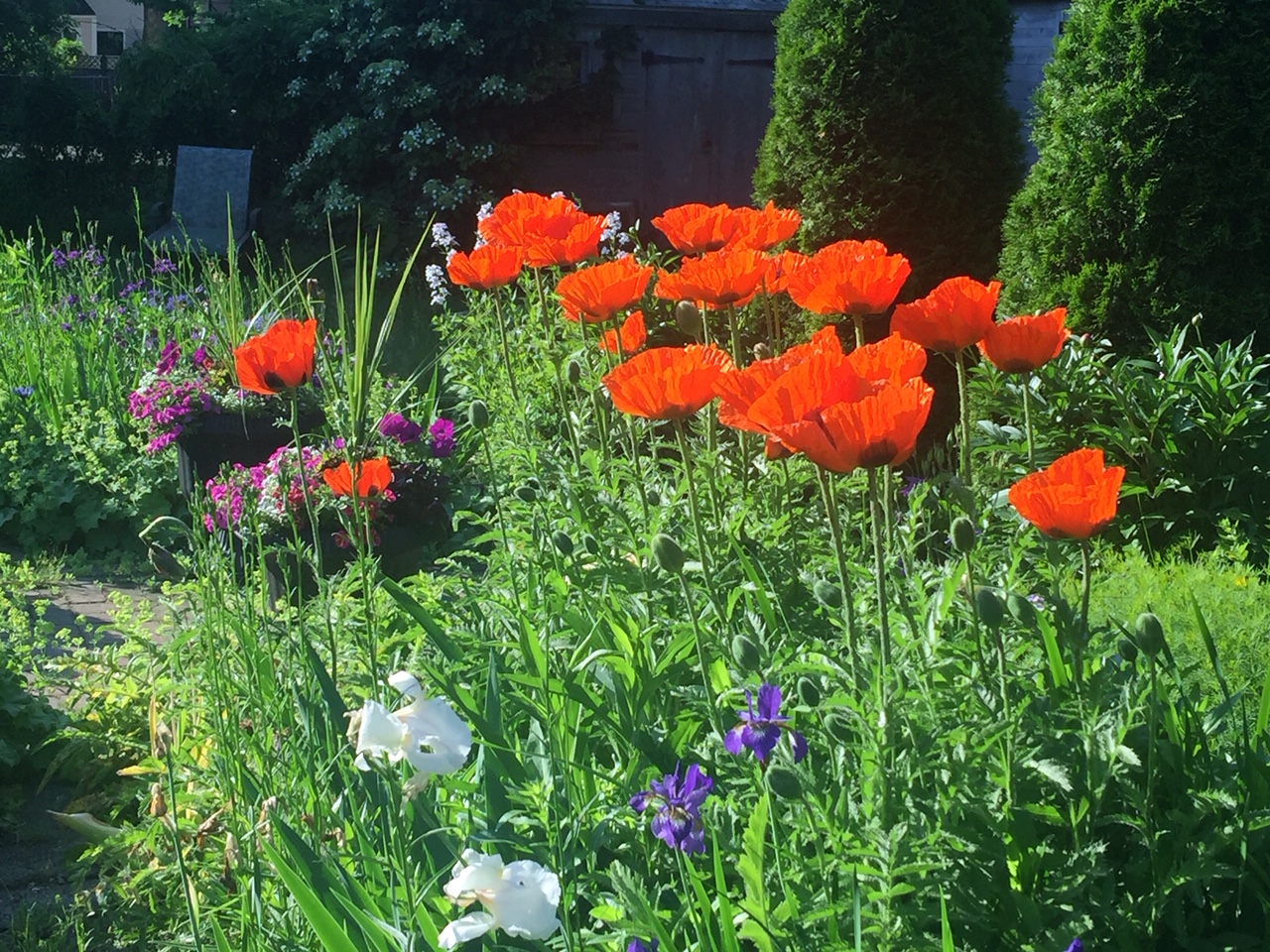 Schedule of Events
Tours
10am-4pm, Saturday & Sunday
Old Favorites & New Treasures Tour eleven beautiful private gardens throughout the Newburys, all within a short drive of one another. Plus, enjoy watching artists and musicians at work in various gardens throughout the wekend! A program book and map will be provided at your first stop. We recommend beginning the tour at the museum, 98 High Street in Newburyport.

Cushing House Open House Explore a historic ship captain's home and experience 400 years of local history. Be sure to check out the special exhibition of artwork by Laura Coombs Hills (1859-1952) in the Benjamin Lecture Hall, as well!

Shopping
10am-4pm, Saturday & Sunday
Museum of Old Newbury Plant Sale Shop the museum's annual plant sale for beautiful blooms to enjoy all summer long.
Excentrique Pop-Up Boutique We are pleased to partner with Excentrique for this exciting pop-up boutique featuring a collection of eclectic goods-vintage, modern, and classic design pieces.
Museum Shop Find unique pieces inspired by the museum's collection, including note cards, aprons, tote bags, books, and more! Plus, enter to win some great raffle items, like an original oil painting and garden design consultation.
*NEW Box Lunches available from Middle Street Foods
For this year's tour, we are happy to offer delicious box lunches prepared for you by our friends at Middle Street Foods! Picnic tables and restroom facilities are available at the Cushing Garden (98 High Street, Newburyport) and at the Adelynrood Gardens (46 Elm Street, Byfield).
Your choice of a fresh made sandwich on the famous Middle Street French Bread:
All Natural Smoked Turkey with Fresh Avocado, Curried Mayo, Lettuce & Tomato

All Natural Ham & Cabot Cheddar, Whole Grain Dijon, Lettuce & Tomato

The Middle Street Garden Veggie with Havarti & Pesto Mayo
Bagged Lunch also includes:
Utz Potato Chips

Spring Water

Fresh Baked Chocolate Chip Cookie
Box lunches are $13.00 and can be purchased when you buy your tickets, or by contacting the museum office at 978-462-2681 or info@newburyhistory.org. Lunches can be picked up at the museum anytime on the day for which they are ordered.
7. Dave and Nancy Foley Garden
9 Bittersweet Lane, Newbury, MA 01951
8. Adelynrood Gardens
46 Elm Street, Byfield, MA 01922
*Restrooms and picnic tables available here
9. The Blacksmith's Shoppe
Joe McDonough and Gerry Heavey, owners
43 Main Street, Byfield, MA 01922
10. Susan Hale and John Boncher Garden
8 River Road, West Newbury, MA 01985
11. Dori Kelly Wroblinski and Michael Marley Garden
55 Ashland St, Newburyport, MA 01950
1. Cushing Garden
98 High Street, Newburyport, MA 01950
2. Dyan Mazurana Garden
112 State Street, Newburyport, MA 01950
3. Marjet Lesk Garden
56R Milk Street, Newburyport, MA 01950
* Art for sale here
4. Paul Goldberg and Joe Bell Garden
19 Chestnut Street, Newburyport, MA 01950
5. The Abraham Moore House
Jim Cunha and Meg Wiley, owners
17 High Street, Newburyport, MA 01950
6. Bill and Debra Cooper Garden
35 High Road, Newbury, MA 01951
Tickets are also available at the Museum of Old Newbury during office hours, Tuesday-Friday 10am-4pm.
Tickets are valid both Saturday and Sunday, June 8 and 9
10am-4pm Daily
Rain or Shine; no refunds
Early Bird Tickets (through May 31): $25
General Admission Tickets: $30
Museum members receive a $5.00 discount on each ticket purchased. To join and receive this exclusive discount, visit our membership page. Already a member and don't know how to claim your discount? Contact us at 978-462-2681 or info@newburyhistory.org.
Tickets may be purchased by cash or check at any garden during the tour. Credit cards can only be accepted at the Cushing Garden, 98 High Street; we recommend beginning your day here. The tour can be completed at your own pace throughout the weekend.