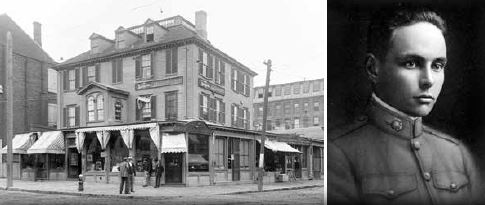 A Newburyport Marine in WWI
Membership Meeting: 6:00pm
Speaker, Bethany Groff Dorau: 6:30pm, reception following
The museum's 141st annual meeting will begin with a membership meeting at 6:00pm, followed by a presentation by guest speaker Bethany Groff Dorau at 6:30pm. Dorau will speak about her newest book A Newburyport Marine in World War I: The Life and Legacy of Eben Bradbury and will feature a special performance of World War I-era songs by the Portermen.
Eben "Bunny" Bradbury, son of two historic Newburyport families, joined the United States Marine Corps just days after the declaration of war in April 1917. Everyone in the city knew him, and his sudden death a year later at the Battle of Belleau Wood in France was commemorated with a public monument. Ninety-seven years later, a chance encounter brought a local historian and distant cousin to ask about his monument, leading to the discovery of intimate letters, personal diaries, photographs and military records, held by people across the world who had not forgotten Eben. Author Bethany Groff Dorau reveals a story that goes beyond a tragic battlefield death and uncovers a rich and complex American family, rooted deeply in a truly American city.
Bethany Groff Dorau is the author of A Newburyport Marine in World War I: The Life and Legacy of Eben Bradbury (June 2018, History Press), A Brief History of Old Newbury (History Press), and a primary contributor to the Defining Documents in American History Series.
She is the North Shore Regional Site Manager for Historic New England, based at the Spencer-Peirce-Little Farm in Newbury, and a recipient of the Pioneer in Preservation Award from the Essex National Heritage Commission and the North of Boston CVB Leadership Award.
She has published articles in the New England Quarterly, the Encyclopedia of American History, and Historic New England Magazine. She holds an MA in History from the University of Massachusetts, and lives in West Newbury with her family.
The Portermen, based in Newburyport, was formed in 2015 by Galway, Ireland native Rob McKeown, a lover of traditional music, who inspired his friends to sing as well. Soon the Portermen grew into a group of nine talented amateurs. The Portermen regularly perform at various venues on the North Shore including Yankee Homecoming, Blue Ocean Music Hall's Festival of Trees and the American Music and Harvest Festival along with appearances at area pubs and watering holes (and in Bethany's kitchen).
Reservations recommended due to limited seating; contact 978-462-2681 or info@newburyhistory.org
Books available for purchase at $20, a special author discount for the event